This site may behave strangely without cookies enabled. Please turn them on in your browser's settings.
Search for Business Hotels in New Carrollton, MD
Find the best hotel deals from hundreds of sites
$132

per night avg rate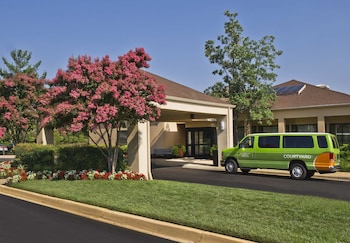 3 star hotel 84
Area: Landover
1.83 mi from city center
$110

per night avg rate
Explore top New Carrollton hotels or navigate to specific New Carrollton neighborhoods and New Carrollton area attractions and landmarks.
Nearby Landmarks & Attractions »
| | |
| --- | --- |
| Greenbelt Park in Greenbelt, MD | 1.24 mi away |
| College Park Aviation Museum in College Park, MD | 2.37 mi away |
| Lake Artemesia in College Park, MD | 2.55 mi away |
| Prince Georges Hospital Center in Cheverly, MD | 3.37 mi away |
| University of Maryland-College Park in College Park, MD | 3.53 mi away |
| Comcast Center in College Park, MD | 3.79 mi away |
| Byrd Stadium in College Park, MD | 3.82 mi away |
| Spacecraft Magnetic Test Facility in Greenbelt, MD | 3.92 mi away |
| Clarice Smith Performing Arts Center in College Park, MD | 4.02 mi away |
| FedEx Field in Landover, MD | 4.37 mi away |