This site may behave strangely without cookies enabled. Please turn them on in your browser's settings.
Search for Luxury Hotels in Denver, CO
Find the best hotel deals from hundreds of sites
See All Hotels
Luxury hotels in Denver offer world-class service with a sophisticated twist. Stay at one of the regal luxury hotels in downtown Denver and enjoy the Rocky Mountain backdrop and nearby culinary hotspots. You'll also be in walking distance of the trendy Larimer Square, the Denver Art Museum and the U.S. Mint. Perfect for travelers looking to mix business with leisure and couples on a romantic getaway, these Denver hotels let you experience the city's invigorating culture while relaxing the stress away in your lavishly appointed room.
$399

per night avg rate
Best Rooms: Rooms on the backside of the hotel ending in *12 - *15 and *00 offer a nice view of the mountains from floors 5 - 9 (e.g. 512, 713, 900). Deluxe Corner King rooms ending in *10 located on floors 5 - 9 offer the best city views, as there are two windows offering a dual view (e.g. 610, 810).
$379

per night avg rate
Best Rooms: The only way to guarantee a colorful mountain view is to book a Mountain View room; they're all located on the west side, on floors 5 and up.
$218

per night avg rate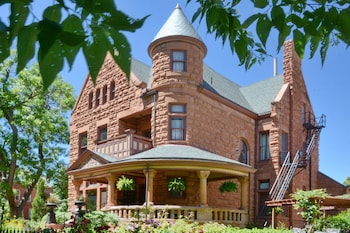 4.5 star hotel 85
Area: Capitol Hill
0.85 mi from city center
$249

per night avg rate
$449

per night avg rate
Best Rooms: While the hotel doesn't offer any full city views, even-numbered rooms offer partial views from floors 8 and above. Not all rooms feature mountain views, so if that's your desired view, be sure to ask for an odd-numbered room (e.g. 713, 1115), as those face west. However, keep in mind that because the hotel is located downtown, there are usually other buildings obstructing the mountain views; The higher up you go, the better the mountain views are likely to be.
$219

per night avg rate
Best Rooms: Deluxe Corner Kings provide the best views on any floor, as they look out toward a church and downtown.
$450

per night avg rate
Best Rooms: Main Room types have good views, but Premier Corner rooms offer views from two sides of the building, allowing you to see a combination of City, Mountains, or the clock tower.
Explore top Denver hotels or navigate to specific Denver neighborhoods and Denver area attractions and landmarks.
Nearby Landmarks & Attractions »