This site may behave strangely without cookies enabled. Please turn them on in your browser's settings.
Courtyard by Marriott West Palm Beach
3 star hotel 82
600 Northpoint Pkwy, West Palm Beach, FL 33407, US
Check Rates
Amenities
Hotel Info
Floor Plans
Street Views
Select your dates below to get the best prices online
Our take on Courtyard by Marriott West Palm Beach
Just because you're looking for an affordable West Palm Beach hotel doesn't mean you have to sacrifice comfort. The Courtyard by Marriott West Palm Beach has it in spades. From the moment you arrive at this tropical getaway, you'll be surprised by the simple yet chic charm that permeates this Marriott property, and once you enter your guest room, you'll be swept off your feet by plush linens, complimentary high-speed Internet, in-room coffee and a 25-inch flatscreen TV. The hotel also features an on-site fitness center, an outdoor swimming pool, made-to-order breakfast and more than 1,00 square feet of meeting space. For affordable, family-friendly accommodations in West Palm Beach, let the Courtyard by Marriott West Palm Beach make you feel at home.
Insider Tips on the Best Rooms at this Hotel
Quiet Rooms

If you're looking for a quiet room, be sure to request a room facing away from Interstate 95.
Rooms with a View

The inward-facing rooms offer a view of the pool. Whereas, rooms facing outward have a view of the trees and parking lot.
Oversized Rooms

There are no oversized rooms within the same category.
Floor Plan and Room Views
Rank rooms based on how well they match your preferences below:
People Who Viewed This Hotel Also Looked at...
Best Rooms
There aren't many views available, so your best option is to request a room facing the pool on any floor.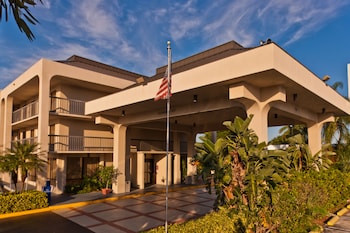 2.5 star hotel
4.97 mi away
Best Rooms
Although Stay Inn West Palm Beach is surrounded by the parking lot, rooms facing east offer a nice view of the trees.