This site may behave strangely without cookies enabled. Please turn them on in your browser's settings.
Loews Philadelphia Hotel
4 star hotel 89
1200 Market St, Philadelphia, PA 19107, US
Check Rates
Amenities
Hotel Info
Floor Plans
Street Views
Select your dates below to get the best prices online
Our take on Loews Philadelphia Hotel
Housed in a national landmark building in the heart of Philadelphia, the Loews Philadelphia Hotel offers four-star accommodations in a truly unique setting. Considered to be the world's first modernist skyscraper, the building was erected in the late 1930s and still bares the acronym of its original occupants, the Philadelphia Saving Fund Society, on its rooftop in large letters. Elements of Art Deco design are incorporated throughout the hotel's lobby and its on-site restaurant, SoleFood. Guest rooms have views of City Hall or the Delaware River and offer upscale amenities like flatscreen TVs, cozy robes and pillow top mattresses with 300-thread-count linens. A bit of history and a bit of luxury combine for a memorable stay at the Loews Philadelphia Hotel.
Insider Tips on the Best Rooms at this Hotel
Quiet Rooms

Street noise isn't much of an issue since rooms start on floor 6. If you want to be safe, however, request a room above floor 12.
Rooms with a View

Luxury Rooms are highly recommended, as they're located on the corners of higher floors and have views in two directions. The best city views are found from rooms facing west, on floors 22 - 32.
Oversized Rooms

There aren't any rooms that are oversized for their categories.
Floor Plan and Room Views
Rank rooms based on how well they match your preferences below:
People Who Viewed This Hotel Also Looked at...
4 star hotel
0.27 mi away
Best Rooms
Odd-numbered rooms *39 - *47 offer preferred views of City Hall on all floors (e.g. 541, 845).
Best Rooms
The hotel isn't known for its views, but getting a corner room facing Market St. on floors 18 and and above will get you the best street view.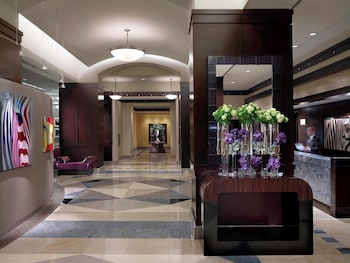 4.5 star hotel
0.46 mi away
Best Rooms
The hotel is surrounded by tall buildings, so you won't find much in the way of views.