This site may behave strangely without cookies enabled. Please turn them on in your browser's settings.
Sheraton Sonoma County - Petaluma
3.5 star hotel 83
745 Baywood Dr, Petaluma, CA 94954, US
Check Rates
Amenities
Hotel Info
Floor Plans
Street Views
Select your dates below to get the best prices online
Our take on Sheraton Sonoma County - Petaluma
Tucked into the idyllic town of Petaluma, the Sheraton Sonoma County – Petaluma welcomes guests into its freshly renovated hotel, where they can savor the beauty of wine country and bask in the comforts that surround them. It's located just 30 minutes north of San Francisco and near more than 300 wineries, so there's plenty to do while staying at this Sonoma County hotel, whether you prefer sampling Northern California's most prized restaurants or exploring the Bay Area. Guest rooms are understated, with more attention placed on the in-room amenities available: 27-inch TVs, Sheraton Sweet Sleeper Beds, coffeemakers and free Wi-Fi, just to name a few. And thanks to its fitness facility, heated lap pool, and restaurant and bar, you don't even need to leave the hotel if you don't want to; we recommend you do though – there's lots of great Petaluma wine to sample!
Insider Tips on the Best Rooms at this Hotel
Quiet Rooms

Corner rooms are the best option for light sleepers, as they're more isolated.
Rooms with a View

To enjoy a great view of Petaluma River, be sure to request a room on floors 1 - 3, facing Redwood Hwy.
Oversized Rooms

There are no oversized rooms within the same category.
Floor Plan and Room Views
Rank rooms based on how well they match your preferences below:
People Who Viewed This Hotel Also Looked at...
4 star hotel
20.45 mi away
Best Rooms
The resort is surrounded by two golf courses, but the only way to get a view of either course is by booking the 1 Bedroom Golf Course View suite.
3.5 star hotel
18.08 mi away
Best Rooms
The inward-facing rooms offer a view of the pool and courtyard. Rooms facing outward have a view of the parking lot.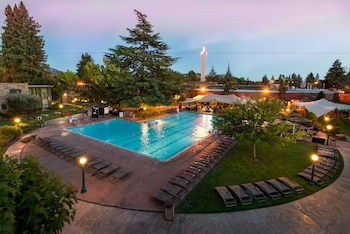 Best Rooms
Rooms facing the pool on floor 2 have the best views in the hotel; these rooms are available as Suites or Executive rooms.